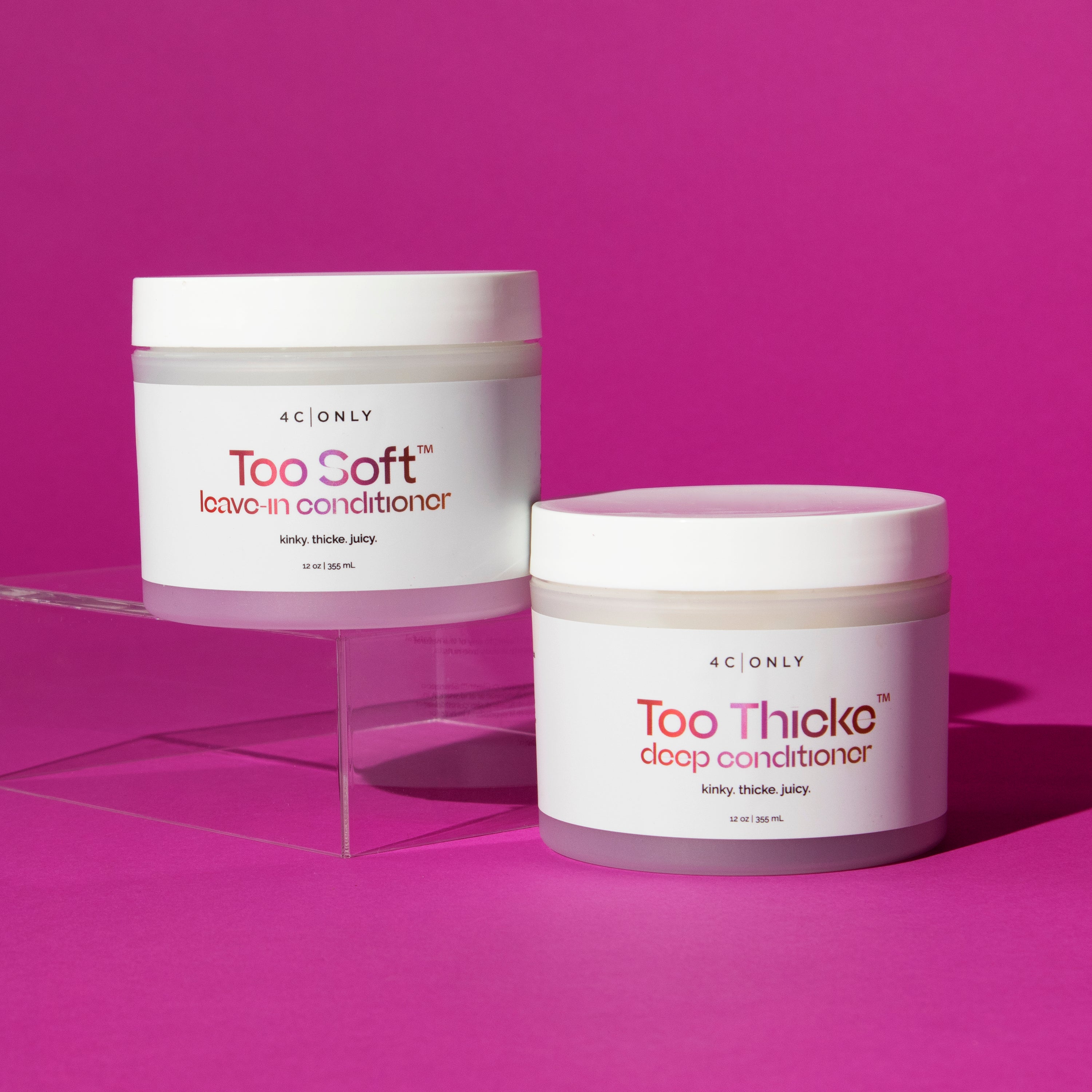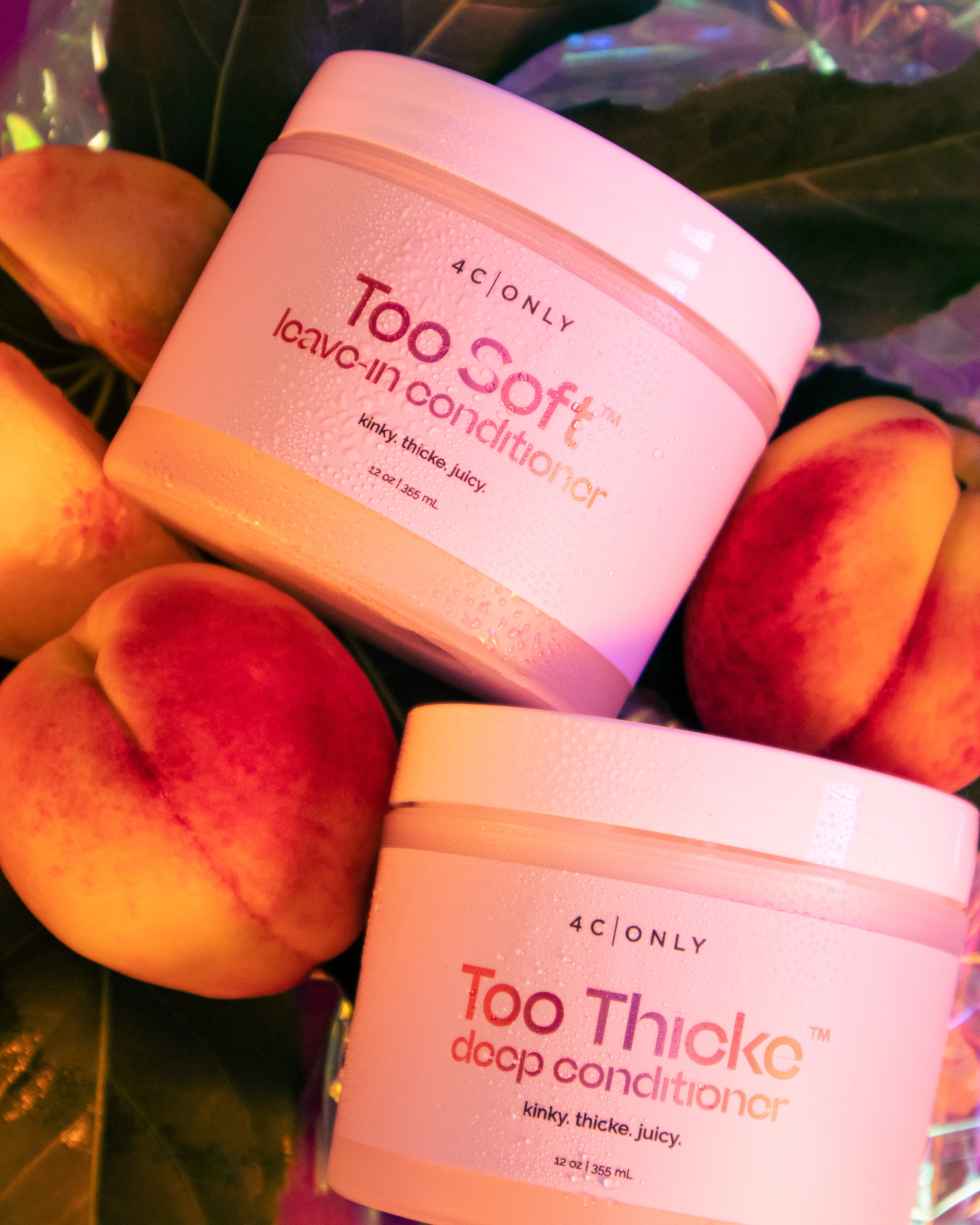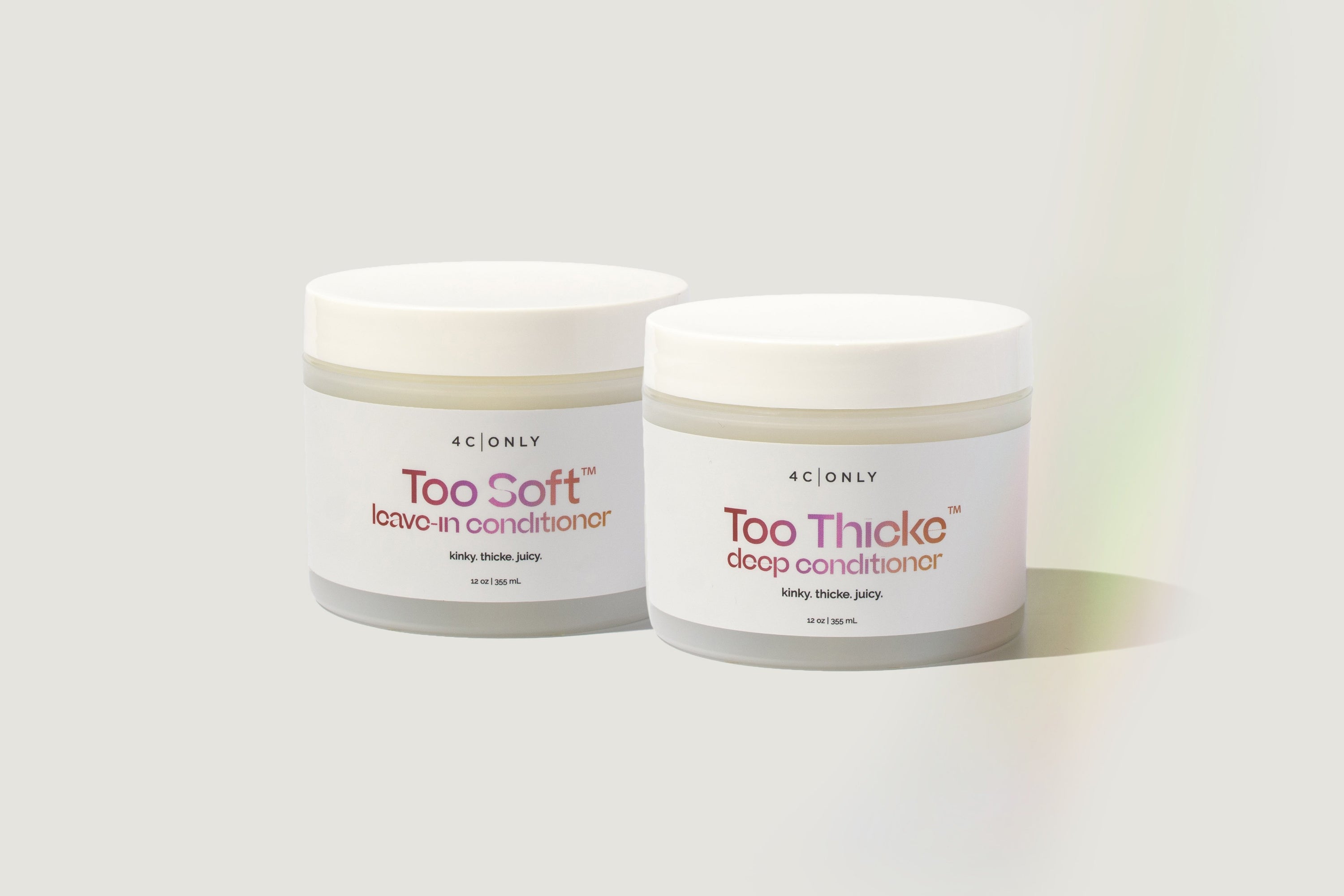 4C ONLY | Too Juicy Bundle For 4C Hair
$30.00
Regular price
$50.00
Subscription • Save
Description
this too juicy bundle is just what your thirsty kinks need. for deep hydration, get into our Too Thicke Deep Conditioner that features slippery elm extract for easy detangling & Too Soft Leave-In Conditioner that will leave your kinks soft and moisturized.

bundle includes: Too Thicke Deep Conditioner & Too Soft Leave-In Conditioner
how to use
Too Soft Leave-In Conditioner:
got drippin' kinks after the Too Thicke™ Deep Conditioner? sweet. apply leave-in conditioner to hair strands. we recommend working in sections. make sure each piece of hair is coated with leave-in conditioner. remember to put some extra respect on those ends.

feel that softness? good. she's ready to style.

*fun fact: you can use this product as a heat protectant for your blow drying and blow outs too. :-)

Too Thicke Deep Conditioner:
start with clean, soaking wet hair. we recommend our Too Clean™ Shampoo to cleanse kinks. section hair, scoop out the deep conditioner and work it in. detangle hair with fingers, or your fav detangling tool. allow deep conditioner to sit for at least 15 minutes, with heat. do not leave this product in hair for more than 1 hour. rinse out with warm water.

the results? juicy kinks that come through drippin'.

ingredient spotlight
Too Soft Leave-In Conditioner
squalane to protect and add shine

Too Thicke Deep Conditioner
slippery elm to easily detangle kinks


product ingredients
Too Soft Leave-In Conditioner:
deionized water, behentrimonium methosulfate, cetearyl alcohol, cetyl alcohol, squalane, slippery elm extract, butylene glycol, phenoxyethanol, caprylyl glycol, sorbic acid, fragrance

Too Thicke Deep Conditioner:
deionized water, vitis vinifera (grape) seed oil*, behentrimonium methosulfate, vegetable glycerin*, slippery elm extract, cetearyl alcohol, cetyl alcohol, aloe barbadensis (aloe vera) extract , caesalpinia spinosa gum, squalane, butylene glycol, phenoxyethanol, caprylyl glycol, sorbic acid, fragrance
*certified organic ingredient
4C ONLY | Too Juicy Bundle For 4C Hair
$30.00
Regular price
$50.00
FAQ
black-owned?
Yes, we wouldn't dream of serving 4C women and being anything else.
will my products be all natural and organic?
yep! we only use natural and/or organic ingredients. we keep our labels simple, so you can understand exactly what's on your hair.
how long will my 4C ONLY products last?
do I need to refrigerate my products?
no, these are water-based products, and as such, include a preservative.
what preservative do you use?
Use this to answer some common questions you hear from your customers. You could discuss product details, size fit, shipping policies, or anything you think would help merchants make an informed decision about your products. This section will appear across all products.
what preservative do you use?
optiphen PLUS. optiphen Plus is a paraben-and formaldehyde-free preservative system that is ideal for products with a lower pH system. optiphen Plus is an ISP patent-pending liquid preservative formulation featuring an innovative blend of phenoxyethanol, sorbic acid and an emollient base that is ideal for slightly acidic personal care products requiring broad-spectrum protection.the combination of all three ingredients offers effective protection against bacteria, yeast and mold growth while imparting emolliency.
i'm allergic to a few things.
ingredients may have been derived from corn, soy, wheat, and/or nut products. they may have also been produced in a facility that makes those products. we recommend conducting an "area/patch test" as described below. area/patch test this test allows you to test a small area of your skin for 24 hours before applying the treatment to a larger area. we recommend rubbing the 4C ONLY mixture on the skin near your elbow, covering it with a bandage for 24 hours and if there is no allergic response (redness, itchiness, swelling) then apply the treatment as directed in the instructions. if you have an allergic reaction, we do not recommend the use of 4C ONLY and suggest that you seek a medical professional's consultation.
Shipping
when will I receive my 4C ONLY products?
4C ONLY processing and shipping policy:
processing time
please allow up to 5 business days (not including weekends or holidays), for us to process your order. we hand-craft all of our products with high-quality ingredients, and these take a bit longer to prepare.
shipping time
after your order has been processed, please give us 2-5 additional business days (not including weekends or holidays) for your 4C ONLY package to arrive!
*possible carrier shipping delays: during the holiday season or COVID-19 things can get really busy for shipping carriers. so you may experience delays that are not our fault. we're happy to help you navigate these if you can't reach the shipping carrier for updates.
does 4C ONLY ship internationally?
oof. 😓 we're sorry fren, we do not yet ship internationally.
unique features
product consistency + scoopability
unique features
crazy crazy slip
you've never experienced this before